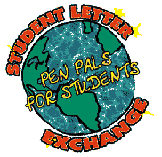 Student Letter has Pen Pals for students between the ages of 9 and 20 years of age!
Have a special friend or friends in just a few short days, anywhere in the world!
Student Letter will match you with Pen Pals. We will mail to you the names and addresses of all the Pen Pals you request. All Pen Pal requests are processed as soon as we receive your order.
All Pen Pals can correspond in English! They have all asked us to find them Pen Pals! They are anxious to write to you.
Don't wait!
Request an order form here!
---
Web Weaver - Internet Connections, Inc.